Introducing the UV Sterilization Toothbrush Holder – Your Ultimate Solution to Toothbrushing!
Experience the pinnacle of dental hygiene with our Toothbrush Holder With UV Sterilizer – your ticket to the deepest clean ever. Say goodbye to the hidden germs lurking on your toothbrush and hello to a pristine brushing experience.
In just four minutes, our UV sterilizer works its magic, eliminating up to 99.9% of bacteria, thanks to the power of UV light and ozone. It's like a spa day for your toothbrush, ensuring that only freshness touches your teeth.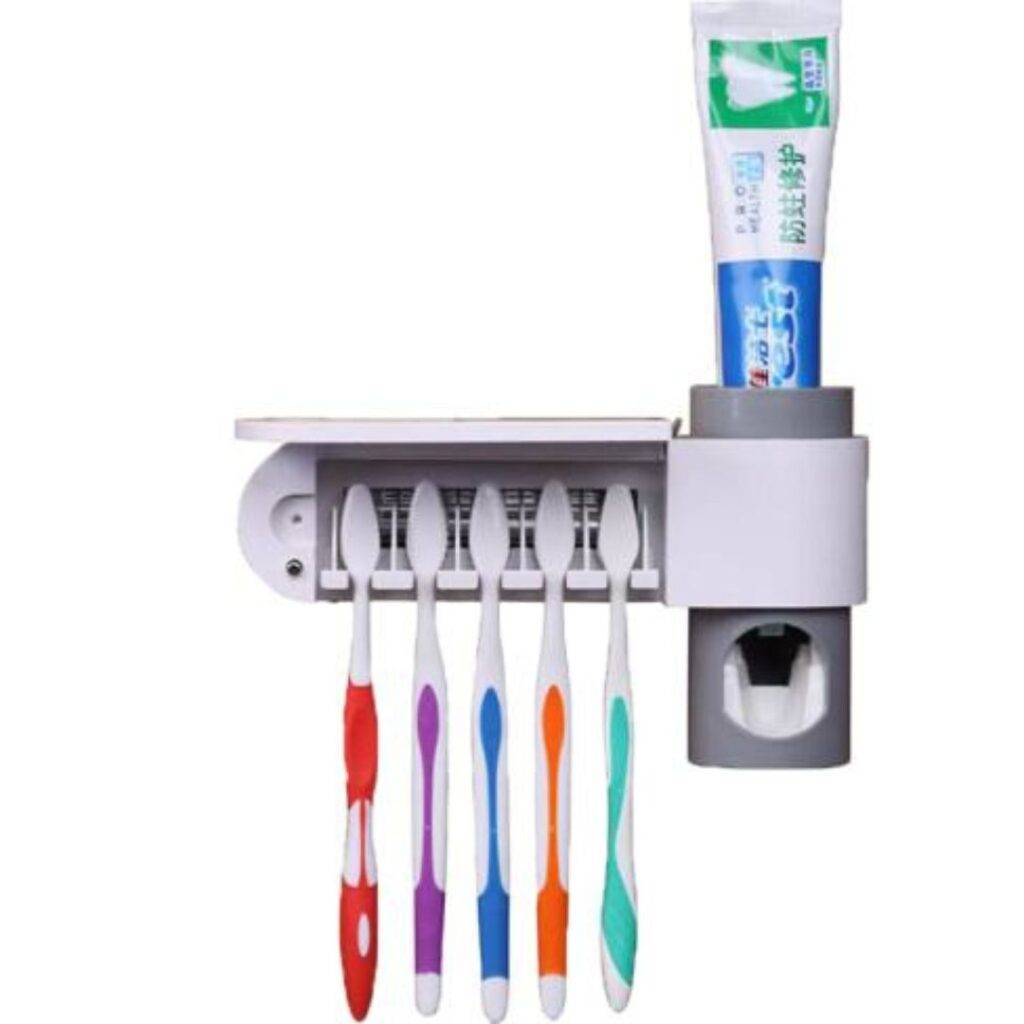 Your deepest clean ever
We're always told to brush our teeth twice daily to keep our mouths fresh and clean. From fresher breath to less plaque and tartar, dental health is serious work. It's all about getting clean — but how clean is your toothbrush? Introducing our Toothbrush Holder With UV Sterilizer, a new way to keep your toothbrush stored, out of sight, and free of bacteria — for a deeper clean.
This sleek holder accommodates up to five toothbrushes, keeping them tucked away in a UV chamber that shuts close, shielding them from contamination. With dimensions of 8.1 x 5 inches, it's a space-efficient solution to bathroom clutter, bringing order to your sink area.
But we didn't stop there – our holder goes above and beyond with a built-in toothpaste chamber. No more fumbling with messy tubes; just insert your toothpaste, press a lever, and let the interior vacuum pump dispense the perfect amount onto your brush. Fuss-free and fabulous.
Just four minutes for virtually zero germs
With the power of UV sterilization, our holder kills up to 99.9% of bacteria that can linger on toothbrushes after use. How does it work? UV light produces ozone, which is a bactericidal gas. That means less contamination going into your mouth — for a clean brushing experience, every time.
Out of sight, out of mind
Our toothbrush holder holds up to five toothbrushes at once, all for UV sterilization. It is made of plastic and measures 8.1 x 5 inches. Never worry about bathroom sink clutter or possible airborne contamination again with our shut-close UV chamber that keeps your brushes clean and virtually germ-free.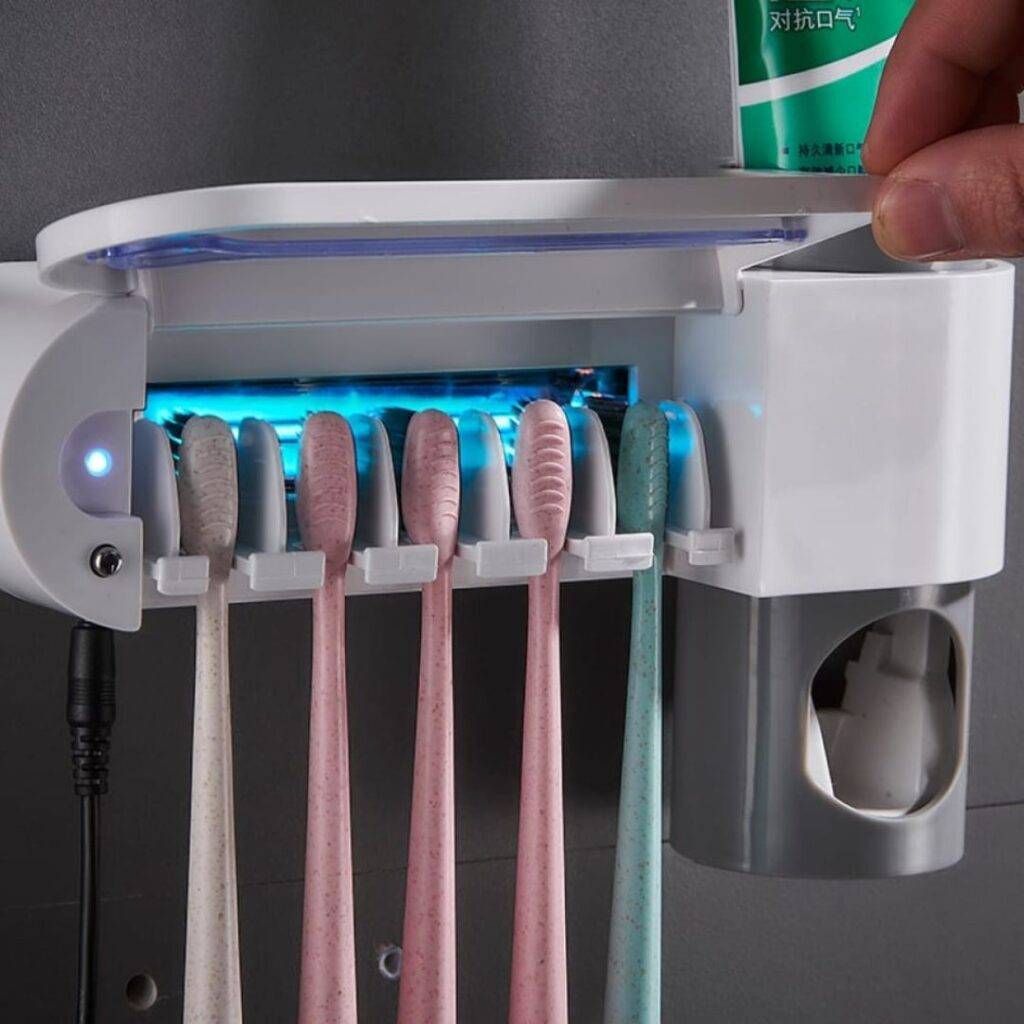 Installation is a breeze with the 3M heavy-duty adhesive pad, eliminating the need for tools or drills. Stick it to any wall and let the magic unfold.
One-button operation ensures simplicity. Just push the button, and let the UV light work its wonders. If curiosity gets the best of you and you open the holder during the cycle, don't worry – the UV light pauses and resumes when closed, ensuring safety and efficiency.
Ordering has never been easier! To get your hands on our Toothbrush Holder With UV Sterilizer, simply click on the "SHOP NOW" button, and you'll be seamlessly redirected to our convenient order page. It's a quick and hassle-free way to secure the products you want. Shop with ease and confidence, knowing that your purchase is just a click away.
Charge up to power up your dental guardian. The lithium-ion battery, included with your purchase, charges in three hours and provides a whopping 100 days' worth of sanitization time. It's a small investment for a big return on oral health.
Shop with confidence, as we partner with trustworthy online payment solutions to guarantee enhanced security and fast transaction processing.
Act now! This amazing offer is only available for a limited time. Place your order today and seize the outstanding savings this Black Friday and Cyber Monday have to offer. Your desired products are just a few clicks away, so don't delay any longe