Our Famous Individual Salad Bowl x 4
Elevate your dining experience with our Individual Salad Bowl set—a chic and stylish addition to your kitchen that brings both functionality and aesthetic appeal. Crafted from exquisite acacia wood, this set of 4 bowls is meticulously designed to complement larger bowls and servers, creating a cohesive and sophisticated look for your table.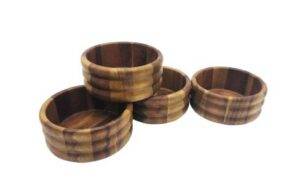 These individual salad bowls are not just a feast for the eyes but are also highly versatile. From serving crisp starter salads to indulgent desserts and flavorful side dishes, these bowls effortlessly enhance the presentation of every meal. The sustainable and hard-wearing nature of acacia wood ensures that you not only dine in style but also with the assurance of longevity.
Embrace the modern design that makes these bowls the #1 must-have for your home. Their stylish aesthetic makes them perfect for serving an array of culinary delights, including salads, fruits, nuts, snacks, and even trendy smoothie bowls. The acacia wooden material adds a rustic touch to your dining experience, creating a warm and inviting atmosphere.
Constructed with durability in mind, these bowls feature a man-made wooden material that ensures resilience over time. The tray feet are thoughtfully equipped with cushioned pads, preventing any unwanted scratching or sliding, and guaranteeing a seamless dining experience.
But it's not just about style and functionality; it's also about making a conscious choice for the environment. Our wooden tray is not only stylish but also eco-friendly and biodegradable, contributing to the reduction of harmful plastic waste in landfills. Bring the green vibes into your kitchen and feel good about your choice for both aesthetics and sustainability.
Looking for the perfect gift for friends or family members who appreciate boho or organic products? Look no further—the Individual Salad Bowl set is an ideal gift that combines style, functionality, and a commitment to a more sustainable lifestyle. Your loved ones will undoubtedly cherish this thoughtful and stylish addition to their kitchen, bringing joy and sophistication to their dining experiences.
Ordering has never been easier! To get your hands on our Famous Salad Bowl set, simply click on the "SHOP NOW" button, and you'll be seamlessly redirected to our convenient order page. It's a quick and hassle-free way to secure the products you want. Shop with ease and confidence, knowing that your purchase is just a click away.
Shop with confidence, as we partner with trustworthy online payment solutions to guarantee enhanced security and fast transaction processing.
Act now! This amazing offer is only available for a limited time. Place your order today and seize the outstanding savings this Black Friday and Cyber Monday have to offer. Your desired products are just a few clicks away, so don't delay any longer.